V12 Finance
V12 Finance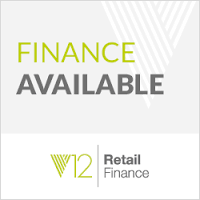 We are now extremely pleased to be able to offer you the opportunity to buy your favourite Electric Bike, by using our V12 Finance option.
You probably understand the long list of benefits Electric Bikes offer, now you can select a Finance option to match your budget.  Simply choose your desired Electric Bike, then match the repayments to your budget by selecting the duration and interest rate. 
You can select from 0% interest over 12 months, or choose to repay over 48 months if that's best for you.  You can even choose how much deposit to pay, if any.  Of course, more deposit will bring the monthly repayments down.
Electric Bikes are often cheaper than people think:  Here's some comparisons…..*
A daily Coffee from leading brands costs roughly £20 a week
A pint a night from your local pub costs around £26 a week
A Supermarket Meal Deal would cost you £21 a week
An entry level Electric Bike on 0% finance over 12 months is less than £22 a week
You can see that Electric Bikes are a very feasible way of commuting, travelling and getting around and are more affordable than many people think!! 
We offer finance both instore and online and the process is simple and easy to complete. We are here to help guide you and/or answer any questions. When Checking out online, one of the payment options will be "Apply For Finance", select that payment method and it will take you through the necessary steps.
V12 finance - who are they?
V12 finance are one of the fastest growing names in retail finance and work with over 2,000 Retailers ranging from national high street names to independent stores like ourselves. 
They offer a range of fantastic solutions including quick, simple and easy to use processes, excellent acceptance rates and fast credit decisions!
The finance option is now live on our website and we are all extremely excited to see how this can help any customers looking to purchase. If you would like to discuss finance in more detail please visit our shop in Brighton Marina or call us on 01273-625060. 
*Please note the prices stated are indicative only and are subject to change.