The New Gocycle GS!
The New Gocycle GS!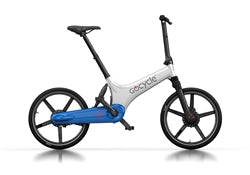 After a successful Kickstarter campaign that raised over $450,000, Gocycle have now launched the GS. Yet another great electric folding bike to follow on from the G1, G2 and G3! This bike comes in White or Grey with the choice of either a Black, Red, Pink, Blue or Light Blue rear swing arm (CleanDrive).
What Features Does It Have?
The Gocycle GS is a really well designed bike with some very cool features. Below are some of these.
Gocycles patented PitstopWheel
These make folding down the GS quick and easy. They are side mounted and can be detached from the bike without using a tool. This not only looks great, it also makes fixing punctures and folding the bike very easy.
Gocycles patented CleanDrive
The chain and gearing system are completely enclosed within the casing of the rear swing arm. This not only means that these components are protected from outside conditions, it also means that the greasy, oily parts of your bike are away from your clothes!
Gocycles Vgonomic™ design
Gocycle provides contact points in exactly the same place as a large-wheel bike – but with more adjustment to fit more riders. The Vgonomic™-designed seat-post and frame geometry, combined with reach adjustable handlebars, provides adaptable fitting with superior comfort levels for a wide range of body types.
It's Lightweight
Gocycle have used environmentally-friendly magnesium to create the Gocycle GS' high-tech, durable, ultra-lightweight frame and wheels, this results in it weighing only 16.5 kg (36.3 lbs) including the kickstand and folding pedals. The Gocycle GS is one of the lightest electric bicycles on the planet!
What are the differences between the GS and the G3?
At £2499 the GS is a stripped back more affordable version of the G3 (£3499). Some of the key differences are below.
It has mechanical gearing instead of the electronic gearing featured on the G3.
It has some external cables whereas all the G3s cables are internally routed.
It doesn't have the LED display or the Daytime Running Light that the G3 has on its handlebars.
It has more affordable and less comfortable grips, seat, and pedals then the G3.
When is it out?
The GS is out now, check it out on or website here or call us for more information on 01273 625060!