The Haibike Electric Bike Range Explained
The Haibike Electric Bike Range Explained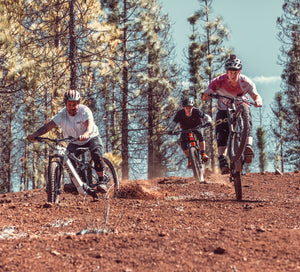 Sduro or Xduro?
Within the Haibike range, bikes will either be part of the Sduro category or Xduro category, so what's the difference? This part of the model name refers to the geometry of the bike.
Sduro means Sporty – These bikes will be more suited to Cross Country, longer distance and relaxed riding. They have a slightly more comfortable Geometry and Design.
Xduro means Extreme – These bikes will be more suited to extreme riding. They have a much more aggressive geometry so are great for attacking steeper and more technical descents.
HardNine or FullSeven?
The easiest way to decipher this bit of the model name is to split it into two words. So for example: Hard and Nine.
The first word refers to the suspension, so bikes with Hard in the title will be Hardtails and therefore only have suspension at the front. Bikes with Full in the title with be Full-Suspension and therefore will have suspension on the front and rear.
The second word refers to wheel size. Nine means it has 29" wheels and Seven means it has 27.5" wheels.
Cross or Trekking?
The Cross and the Trekking models are very similar bikes and are suited to very similar riding. The key difference between them is the Trekking comes with a rack, lights and mudguards as standard, the Cross models don't.
AllMtn, Nduro or Dwnhll?
To decide between these it comes down to where you will be riding, what style of riding you enjoy and how much suspension travel you need because of this. The AllMtn range will have either 150mm or 160mm travel, whereas the Nduro bikes will have 180mm and the Dwnhll 200mm.
What about the number afterwards?
This number refers to the spec level of the bike and ranges from 1.0 to 10.0. The higher the number, the better the spec. What do we mean by spec? This refers to the parts fitted onto the bike, so as this number gets higher you tend to get better quality brakes, gears, suspension etc.
 View the full Haibike Range here