Spotlight Series: The Raleigh Stride2
Spotlight Series: The Raleigh Stride2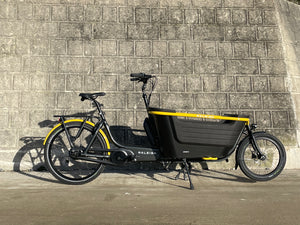 Introducing our new series of Blog Posts; The Spotlight Series! Every other week we will be focusing on a model we currently have in stock (at the time of writing) and highlighting everything great about it. Sometimes the world of Electric Bikes can be quite overwhelming so we will be breaking it down! If you have any models that you are particularly interested in, leave a comment and we will be happy to Spotlight it!
Up this week in the Spotlight Series; The Raleigh Stride
The Raleigh Stride 2 is an elegant, eco-friendly two-wheeled alternative to typical family transport. Designed with practicality in mind, this classy cargo bike can carry a lot! Kids, pets, parcels, the weekly shop - you name it. Spacious and safe, with a bench and belts for 2 children, there is plenty of room for the kids and their bags as well as keeping them protected with the deep bucket. You can also easily add a baby seat to keep your extra small ones extra protected.
The Raleigh stride features The Bosch Performance CX Cargo Line motor with 85Nm Torque. The motor is designed to perform with heavier loads, adapts accordingly to weight onboard and with powerful output from standstill, you get extra assistance when needed most. 
The Enviolo gears and carbon belt drive are very low maintenance and easy to use. This gearing system will also allow you to change gear when stationary which can definitely help if you are caught out and need to get moving again from a stand still! The 2 wheels make this model easy to handle and perfect for cruising the town and being powered by a 500Wh Bosch battery, the Raleigh Stride 2 gives you everything you need to get from A to B without breaking a sweat. With a range of up to 40 miles and a cargo capacity of 80kg, the Stride 2 is ready to help you take on your day.
Integrated lights that run off the main battery mean you can don't need to worry about remembering to charge your bike lights! As well as mudguards and a rear rack being included you also have a rear wheel lock which keeps the bike form being rolled away. You will probably want an extra lock to lock the bike to something but every little helps when it comes to security! The lock has the same key as the lock that keeps your battery on the bike. The battery can be easily taken off with the key for charging. 
In comparison to other Cargo bikes we offer, the Raleigh stride has a much lower price point without scrimping on quality. Although currently, the offering on Accessories is less than other models, the bike comes with child seating included and as an added extra you can purchase a rain cover or baby seat.
As mentioned, this model is currently in stock and we would be happy to go through any other questions you may have about this model! See the Raleigh Stride on our website here.