Shimano Launches Two New STEPS Drive Units
Shimano Launches Two New STEPS Drive Units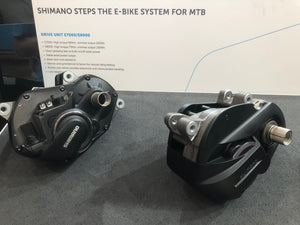 Shimano have just doubled their range of motor systems with the addition of the E6100 and E7000 to complement the already popular E6000 and E8000 units.
E6100 Commuting/Trekking
The E6100 offers improved efficiency and a noticeable weight reduction of 210g. It comes in a trekking or city style with a fully enclosed chain guard and is available with either an internal hub gear or cassette and derailleur system with the optional extra of Shimano Di2 electronic shifting.
The drive unit weighs just 2.88kg and with a 20% energy saving versus the older E6000 series it boasts a whopping range of up to 180km on one charge. Shimano have also added more display options to allow the user to customise what data they view and how they view it. The rider can choose to use either a standard Shimano display, a third party cycling computer, the E-Tube app via a smartphone or the minimalist junction only approach which shows mode and battery life through a colour LED.

E7000 Mountain Bike
The new E7000 mountain bike specific drive unit has been launched to provide an affordable option for the more recreational rider who doesn't need to splash out on the top end E8000 system. The main differences between the two mountain bike drive units are in the display, control systems and rider support. 
The new control system has been designed for simplicity and ease of use, with symmetrical right and left side shifters to change between the 3 power modes and shift gears. One unique addition for mountain bikers is the ability to use the left side shifter with a thumb operated remote seat post lever, allowing for a cleaner cockpit layout. 
The E7000 has also been given a new display named the SC-E7000. It provides all the same live information as before, such as speed battery level and motor mode, but it comes in a cleaner, simpler to read format. 
There is also the option to view STEPS information using a 3rd party device (with an additional connector) or to use the Shimano E-Tube Ride app which also allows the rider to tweak the power output of the system in its various modes. The motor in the E7000 offers similar spec to the E8000 with the same peak power and assistance up to 25kph to meet EU regulation. The motor also has the same low profile as the E8000 with a low Q-factor to keep the riding position natural and Shimano boast that the E7000 offers a more controlled and smooth ride compared to the faster accelerating E8000 model.