Preparing your bike for winter
Preparing your bike for winter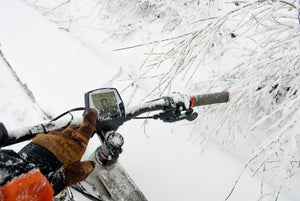 The chill has arrived! And although it might seem tempting to put that bike away for winter, there's many joys that can be taken from riding over the colder months. Be that travel chaos in traffic or public transport delays, maybe even just seeing the joys of a lovely winter sunset or those beautiful crisp winter mornings. With a few adjustments and checks, your bike will be able to go into the winter months giving you many happy miles!
Checking your bike before a ride or periodically is always a good thing to do in any weather or season, but it can really help prevent unwanted strandings or long walks home, especially in cold and wet conditions. Below is a summary of the most vital parts to check:
Brakes
Most modern bikes come with two types of brake, rim brake and disc brake, both using a brake pad that slows your bike down by pressing against a braking surface, either a brake rotor or your wheel rim. Nearly all out Electric Bikes come with Disc Brakes.
A simple check you can do before any ride is a quick pull of the brakes, just pull the lever and push the bike forward and the bike should stop you pretty much instantly. Pad wear can be checked by either a change in how far the brake lever comes back to the handlebar or looking at the brake pad itself. Braking surfaces can be easily checked too. On a rim brake, by looking for the wear line running around the middle of the rim on the braking surface; if its gone or the braking surface has sunk inwards then the rim will probably need changing. For disc brake rotors you need to check if the rotors are roughly scored or have a significant step in them. 
Tyres
Tyres are an integral part of your bike, they're the part that connects your bike to the ground and keeps your wheels turning! Getting the right tyre for the conditions can really improve your ride and checking the condition of them can really help prevent any unwanted setbacks. Most e-bikes come with larger tyre sizes than analog bikes and this can really help going into winter as they can provide a bigger contact area and better handling when conditions get worse. For the winter where paths get muddier, are susceptible to leaf fall or frosty, a bigger volume tyre or one that has more of a defined tread could give you more reliability while out on the road. 
Now, that leads us on to one of the most dreaded parts of cycling… Punctures!
Punctures are inevitable in cycling, and although some brands throw around phrases like "puncture proof", there's no such thing. There is however, lots that can be done to keep them down to an absolute minimum. Checking wear limits on your tyre and changing them when there at the end of life can help, but also using good quality ebike rated tyres with substantial puncture protections as well as slime self-sealing solution can hopefully keep those punctures at bay. We provide these in store and an appointment can be made for fitting.
Drive chain
Keeping your drive chain clean and maintained is also an important way to keep unplanned stops to a minimum. Cleaning your bike in general can help, but if you are short on time, keeping your chain and cassette free of mud and grime can help premature wearing of components. Also, re applying chain oil after wetter or rainy rides will keep your drive train lubricated. Annual servicing, or even biannual bike services if you're really eating up the miles can be a sure way to keep your bike in tip top condition.
Some accessories that may help keep your winter riding more comfortable and safer are:
Lights
Being able to see while riding at night is important, being seen is an imperative (and the law). Many of the Electric Bikes we offer come with built in lights, or the option for them to be added. Modern bike lights have come a long way since filament bulbs, utilising modern electronics and LED's they are much brighter and drain far less power, lasting for much longer.
Built in lights 
Built in bike lights are hardwired into the battery providing a bright solid and reliable light that pulls an unnoticeable amount of power from the ebike systems. The main advantage of these types of lights are that they can be forgotten about and programmed to be always on, providing lights to help you be seen at any time of the day and night, without the worry if you've remembered your lights and if you've charged them.
Rechargeable Lights
All the bike light options we sell are USB rechargeable. The main advantage of this type of bike lighting is that it's lightweight and can be easily removed to be recharged or to be used on another bike. Another advantage of these lights is that they have a range of different strobing options that can help to increase visibility. Some of our customers that have built in lights still like to add a strobing USB light to their bike to provide maximum visibility.
Mudguards
In the winter months mudguards can be a real lifesaver in keeping you clean and soaking tyre spray and keeping mud down to a minimum, the classic wet weather badger strip of mud and water up your back is never ideal and you can also avoid spraying your fellow cyclists too. Like are bolted on to your bike and provide full coverage keeping spray down to a minimum reducing bike lights, mudguards come in two different types, bolt on and detachable. 
Bolt on mudguards are the best at keeping all the spray and grime off you and the bike, this can really help minimise all that material getting thrown over your brakes and drivetrain causing premature component wear. Some specialist mountain bikes like full suspension bikes are much harder to fit a traditional full mudguard due to the pivoting frame so there is a range of clip-on mud guards that can help keep mud and grime to a minimum protecting all the moving parts of the bike.
Clothing 
Although the joy of riding an ebike is that you can wear any type of clothing and you don't have to worry about getting hot and sweaty, when it's raining, and the weather is bad there's a number of pieces of clothing that can really help in keeping you dry. Having a good set of waterproofs is highly desirable for wetter days, combined with waterproof trousers and overshoes you can stay nice, cozy and dry, and there's nothing worse than wet feet. Also, these can be combined with gloves and a hat or even specialist winter cycling hats that are designed to fit under your helmet. Some people also swear by a reflective high vis jacket or helmet/helmet cover, giving you the best visibility during the darker nights of winter.
Did you know you have the ability to program service reminders into Bosch based ebike systems as well as that there is half price servicing for Elctrc customers, keeping your bike serviced can really pay for itself!