The rise of the Lightweight eBike!
The rise of the Lightweight eBike!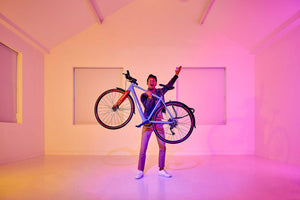 We've seen a number of different styles of eBikes being developed over the last few years as the market has grown. From high end full suspension e-MTBs for attacking the trails, to e-Cargo bikes, theres an eBike out there for almost all uses. But now there's a new type of electric bike growing in popularity, the lightweight eBike.
Various brands are now developing lightweight, more stripped back and sleeker looking ebikes. These are bikes with smaller more hidden batteries and motors, that look and feel more like a legacy bike. They also typically will be more road/urban style with narrow tyres, rigid forks and a sporty geometry/riding position. These features allow the bikes to be a lighter weight, usually around 16-20kg depending on the model and spec and therefore, easier to handle and pick up speed. They won't have the same power or range as some of the heavier ebikes but will be easier to ride when riding without the assistance or past the 25kph cut off.
Who are they for?
These are ideal for city/urban riding and commuting. They allow you to cycle to and from your destination quickly and efficiently, getting exercise while giving you that extra boost when needed up a hill or through a headwind. Not only that but the lower weight will make it easier to maneuverer the bike, whether that be when riding and navigating the city or lifting it in and out of houses, trains, up stairs etc. Also, by having a more stripped back design and features, maintenance tends to be low and the user experience simplified.
Whilst all these features sound great, it's important to remember that these bikes will miss out on some of the useful features our heavier eBikes have, such as range, comfort and power, so it's worth weighing up which features are more important to you when picking an eBike to suit your needs.
What lightweight eBike models do we sell?
This features the brand new Fazua 60 motor and a 430wh battery but still comes in at just 19.5Kg (Touring model.) Fazua have been making lightweight compact motors for some time as seen on brands such as Lapierre and Forme. The Ride 60 is the latest motor they've developed, it has 60Nm of torque so not only is it compact and lightweight but it still packs a punch for riding up hills.
The UBN is currently offered as a full crossbar (UBN 5) or mixte frame (UBN 7) set up, with a lowstep version planned for the future.
As always, they offer different spec options for the drivetrain, including a single speed/belt set up to keep maintenance and weight to a minimum, or the normal chain/derailleur and belt/hub gear options if you prefer, this will add to the weight though.
All versions come fitted with lights, a rack and mudguards so are well spec'd as standard for commuting. However, in true R&M fashion, there's several other options when choosing your configuration including additional locks, comfort handlebars or even changing the rigid fork to air suspension, to help soak up those bumpy roads. Again, this will add to the weight.
Click here for the full Riese & Müller UBN spec
The Raleigh Trace
This model comes in at just 16.5Kg making it the lightest ebike we sell! At a glance you wouldn't realise it's electric, it features a neatly integrated 250wh battery in the frame and a EbikeMotion x35 rear hub motor. It comes in two colours featuring Shimano gears and a carbon fork. Not only that but lights, mudguards and a rear rack are all fitted as standard. All these attributes but a sleek, clutter free design that looks great. It's heavy on features and light on weight!
Check out the full Raleigh Trace spec here.
Come down and see both models in the shop. We're open 7 days a week,