Koga Certified Dealer!
Koga Certified Dealer!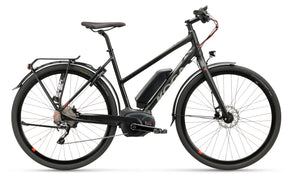 We are extremely excited to announce that we are now a specialist Koga Certified Dealer!
KOGA is a Dutch bicycle manufacturer of high repute based in Heerenveen, Netherlands.  KOGA has a team of experienced Product Designers who all share a single vision: developing top quality bikes which address all Customer expectations.  All Koga bikes follow the design philosophy of combining sporting character; comfort; exclusive design; with flawless craftsmanship, whilst conforming to the highest quality standards.  
Koga check all the bicycles built in Heerenveen and all of them are thoroughly tested one by one and put through a comprehensive inspection, so they can guarantee they meet the highest standards of quality. 
All Koga bikes are finished by hand and a single technician is responsible for the full assembly of each bike. The 'Handbuilt by Koga' logo on the frame results in perfection down to the finest detail.  This quality enables Koga to offer a lifetime frame warranty. 
Electric Bikes Sussex specialize in Koga Electric Bikes, that are based on the industry leading Bosch Motor technology, but can supply any Koga as you wish.   
We're proud that Electric Bikes Sussex have also attained the "Bosch Expert" certification, of which there are only 10 Dealers Nationally (at the time of writing) and the only one in Brighton & Hove. 
To view the range of Bosch based KOGA bikes we offer, click here.