Introducing Shimano STEPS
Introducing Shimano STEPS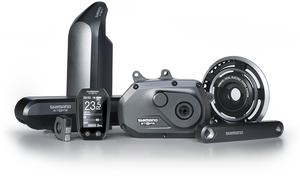 Shimano are one of the biggest names in cycling and are the world's leading supplier of bicycle components. With all this experience and knowledge in the bike industry Shimano of course decided to step into the exciting world that is Electric Bikes. They have introduced their very own Shimano crank drive motor, battery and control system, the Shimano STEPS, to compete with the likes of Bosch and Yamaha.
The motor weighs just 3.2 kg, making it one of the lightest on the market! It comes with a 418 Wh 36v battery that is predicted to last 1,000 charge cycles with no significant power loss, making it able to challenge the best of the best.
The Raleigh Strada E combines the Shimano STEPS Motor with Shimano's Alfine Di2 electronic hub gear. This means you change gears electronically using buttons just like the buttons used to change assistance modes instead of levers, creating a fast, smooth and precise shift that doesn't need readjustment. You also have the option of automatic gears, meaning you don't even need to worry about changing gear! Based on how fast you're pedalling and how fast the bike is going the Di2 will shift into the correct gear for you. As this is all linked to the motor the drive unit will then reduce chain tension momentarily so that the hub can change gear. This results in a smooth riding experience as it does almost everything for you! It even shifts down when you stop to make the start easier. Having the gears, motor, controls and display system all linked together really does result in an intuitive and enjoyable ride. Also the display is easily customisable, therefore you only see what you want to see while you're riding.
One of the features which makes bikes with the Shimano STEPS different is that usually almost every component on the bike will be made by the same manufacturer. For example on the Strada E, the brakes, internal hub gear, drivetrain, motor, battery, display and control are all made by Shimano. This means that, set up right, all the components are likely to work harmoniously and smoothly together. Creating a comfortable and enjoyable riding experience.
All of this for only £2000! Like the sound of this? Check out the Strada E online here or come and see/try it in store!