Hövding's airbag for cyclists now available for the first time in Brighton!
Hövding's airbag for cyclists now available for the first time in Brighton!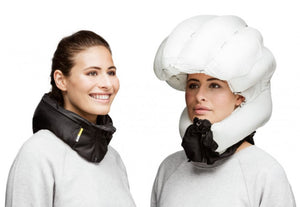 Hövding, the Swedish airbag for cyclists, is available to purchase in Brighton for the first time exclusively at Electric Bikes Sussex.
We will be holding a launch event with representatives from Hövding, at midday on April 10th.  This will include some live 'activations' of the Airbag so please do come down and join us. Cycling Safely is something close to all of our hearts - and heads!!

 

Below is some information about the product.
Hövding, the Swedish company behind the revolutionary cycling airbag, has announced a partnership with Electric Bikes Sussex, the market leading electric bike store in Brighton.
Launched in 2012, Hövding is the world's first airbag designed specifically for cycling. The Hövding is worn around the neck like a collar, and is capable of reading a cyclist's movement 200 times per second. In an event of an accident, Hövding recognises the changes in body movement and fully activates in just 0.1 seconds.
In October 2016, Hövding was tested by the prestigious Stanford University. The detailed study looked at the effectiveness and the levels of protection of various cycling helmets. In the research, Hövding was compared directly to traditional foam helmets in a simulation of a single fall, the most common cycling accident. The research concluded that Hövding provided eight times better protection against a risk of concussion than a traditional helmet, and was 'near perfect' in terms of protecting both the head and neck in an event of accident.
Electric Bikes Sussex is a market leading Electric Bike store, based in Brighton. The shop offers a variety of quality electric bikes, bike parts and accessories. The store puts a strong emphasis on delivering the best quality cycling gear to its customers and focuses on delivering products to fit every customer's individual needs. Electric Bikes Sussex is the only specialist Electric Bike store in Brighton and Hove, and offers an extensive workshop run by experienced and fully trained technicians.
Because of greater speeds cyclists can reach while riding Electric Bikes, Hövding makes the perfect companion for electric bike enthusiasts. In an accident that takes place at a speed of 16mph, the risk of a head injury is under 2% with a Hövding, in comparison to almost 90% with a conventional cycling helmet. Furthermore, a Hövding's innovative design ensures that not only the cyclist's head but also the neck is protected in an accident, by safely locking it in place.
Graham Rowe, MD of Electric Bikes Sussex commented: "As the leading specialist electric bike store in Brighton, Hove and the surrounding area, we put a strong focus on bringing the best and most innovative products directly to our customers. Hövding is a strong addition to our existing product portfolio and a really exciting product that will be of great interest to many across Sussex. Safety is of paramount importance for our customers and there's nothing more important than protecting ones head!"
Fredrik Carling, CEO of Hövding commented: "Here at Hövding we are always looking for opportunities to partner up with other forward-thinking companies that are just as dedicated to promoting cycling and cycling safety as us. Electric Bikes Sussex is the perfect store to partner with as we launch in Brighton and we are looking forward to working with them going forward."
The Hövding is now available from over 836 stores worldwide. To date, more than 50,000 Hövding units have been purchased by cyclists across the globe, and the company is aware of over 800 cases where the airbag has potentially saved a cyclist's life in an accident.