Here's Whats New...
Here's Whats New...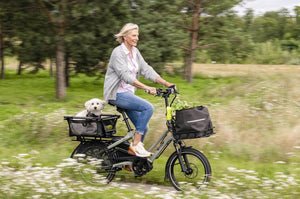 Since early 2020 the bike industry has seen unprecedented growth and we are sure we speak for lots of independent retailers when we say the past 2 years have gone by in a blur!
We have of course been trying our hardest to keep up with demand, whilst also bringing on different bike and P&A brands, moving retail units, and supplying local authorities with bikes. Moving forward we have lots of updates in the pipeline, and to start with we thought we'd bring you the latest bike updates that we now have available in store.
Tern HSD Accessories
There have been several new and exciting updates for Tern's accessories range. Building on from their previous GSD accessory release in 2021, Tern have now brought the modular Club House, Storm Box, and Storm Shield to the HSD range to make the ultimate all weather passenger compartment. Much like the GSD, this will keep your passengers or cargo dry and protected whilst on their ride. Have a furrier friend that you'd like to take along with you on your adventures? Tern have produced the Dog Roof Mini, a safe and secure way to carry man's best friend to work, to the park and beyond!
See the full range here:
www.elctrc.co.uk/products/tern-clubhouse-mini
www.elctrc.co.uk/products/tern-storm-box-mini
www.elctrc.co.uk/products/tern-storm-shield-mini
www.elctrc.co.uk/products/tern-soft-crate-mini
www.elctrc.co.uk/products/tern-dog-roof-mini
Riese & Müller 

Charger 4

Riese & Müller have announced their new model, the Charger 4. Following on from the extremely successful Charger3, a Reliable commuting machine during the week, and a sporty adventurer at the weekend. Featuring the new Bosch fully integrated 750 Wh battery and powerful Performance Line CX motor boasting 85 Nm, it is the perfect all-rounder.

Both components of the New Bosch smart system blend perfectly into the stylish frame design and deliver extra power. The LED Remote is fast and easy to operate, while the Kiox 300 display shows the remaining range. More to come on the New Bosch system on our next blog post!

Similarly to the Charger3, the high-quality equipment with suspension seatpost, responsive suspension fork, powerful disc brakes, daylight bright headlights and daytime running lights guarantees unrestricted comfort as well as optimum visibility and control on every journey. View the model here or in store now.

 

 
New Raleigh Motus Range
Raleigh's flagship Motus range get's updated for 2022! The highly popular city/commuting electric bike from Raleigh now features a completely new frame design for the Motus Tour and Grand Tour models, Bosch intube batteries, an updated spec and some brand new paint schemes! These bikes are perfect for commuting, everyday city riding or weekend leisure rides. Check out some of the highlights below;