Hedkayse
Hedkayse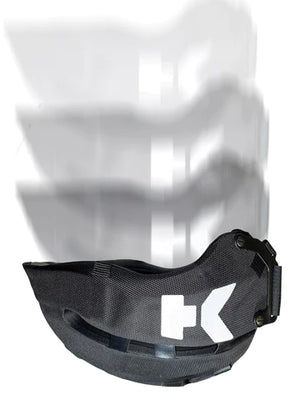 As seen on Dragons Den, Hedkayse was started when founders Tony Walker and Andy Creak were working in London and got fed up of cycling without a helmet between client meetings. As this was proving a challenge when working with big companies in big office buildings when bringing in your cycle helmet wasn't trendy. Then when starting up new fintech companies this got even worse. As it was really hard rocking up to a client meeting selling a new fintech concept with a cycle helmet left in the corner of the room.
Not Cool.
So they dreamt of a helmet that goes in your bag. Not that easy, you can make a helmet that collapses but the bit that keeps you safe is REALLY delicate. And cycle helmets get loads of everyday wear if you commute in them. Definitely not good if you bash them. Which is why cycle helmet manufactures recommend you replace your helmet every 12 months. And just about all of the brands make them in same place in China. 
This meant Hedkayse needed to reimagine the material that keeps you safe. Not that easy as you need to protect when it is cold and very hot and most materials turn to a brick or jelly at temperature extremes. 
So after thousands of tests and hundreds of different formulations they discovered the answer which protects you again and again, whether it is hot, cold or wet.
And they called this material Enkayse™️
Hedkayse helmets are made out of Enkayse™️ and will protect you again and again, that's right unlike other bike helmets, they are multi-impact!
Conventional helmets are made from polystyrene (EPS). In a large impact, polystyrene deforms to provide what's known as sacrificial protection. This is why you have to be careful not to drop your polystyrene helmet in everyday use, and it's why manufacturers recommend that you replace your helmet after a knock. 
Unlike EPS Enkayse™ is designed to manage the energy of impacts whilst retaining its integrity. Enkayse™ dissipates energy rather than deforming on impact, it also cushions small bumps. Protection from small knock and bumps may also have long-term benefits as researchers believe the cumulative effect of small knocks contributes to brain disease over time. Enkayse™ shrugs off the bumps, knocks and everyday abuse, so you can be sure that Hedkayse | ONE will provide continuous protection. All this in something that folds to 50% of its constructed width to fit into your bag, suitable to throw on the desk or into the car.
They pass the safety standards for UK and Europe (just a matter of time for the US and Japan). They are covered in ballistic nylon that is tough but also can be printed in whatever design you want. Or they can use leather, hide or carbon fibre available in the Hedkayse | PREMIUM range.
Hedkayse helmets are Carbon Neutral, not only this but they have also committed to go beyond a Net-Zero Carbon position by investing into a 100 year project with Caledonian Climate to achieve our green future. 
Caledonian Climate provides high-integrity Nature Based Solutions to climate change and biodiversity loss by restoring degraded peatlands in the Scottish Highlands. All of the work we support is independently verified by The Peatland Code.