Haibike 2019 - What's New?
Haibike 2019 - What's New?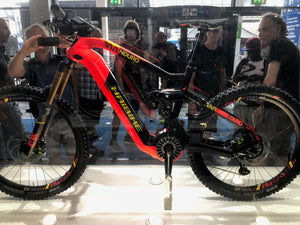 We are currently at the Eurobike show in Germany, where Haibike have launched their new product range for 2019. So, what is new?
Haibike FLYON
By far the biggest and most exciting news coming out of Haibike is their new Flyon range. "The eBike as we know it was completely rethought in order to launch the next generation of ePerformance. With FLYON we have been able to create a system according to our understanding and concepts. This system enables eBike riding
as it should feel in our opinion: self-evidently and powerful. All components seamlessly integrate into the overall design, which convinces with a high level of integration."  - Ingo Beutner (Head of Engineering Haibike.)
The Flyon bikes will use a TQ Motor which is made in Germany. This is currently the most powerful crank drive motor on the market with 120Nm of torque. Not only that but it is very compact and looks great! This will of course be protected by the Haibike SkidPlate that we have seen work so well before.
This Motor has 5 modes of assistance which can be changed via an intuitive remote and display system, both of which will change colour based on which mode you are in.
They will also use a 630 Wh, 48v integrated battery. Which can be charged either on the bike or off of it. With this Haibike will be launching an optional quick charger that can charge this battery from empty to 80% in just 60 minutes.
All of the Flyon bikes have carbon frames, integrated cable routing and Haibikes Modular Rail System (MRS)! Not only this but the speed sensor is integrated into the frame dropout and the newly developed speed sensor disk sends 18 signals per rotation!  This means it is measuring the speed 18 times more accurately than the standard magnet on the spoke seen on other systems.
Also, all of the Flyon bikes can come with integrated lights that run off the battery. The rear lights integrate onto the rear triangle of the frame!
There will be a number of different Flyon models. From Nduro to Adventure/Trekking bikes.
We will be putting all the models on the website very soon. Demand is expected to be high, so we would advise anyone seriously interested to pre order as soon as possible to avoid disappointment.
Other Haibike Updates
Haibike will now offer intube batteries on some of their Yamaha models making them look even slicker and cooler than before. This will be combined with Haibikes Modular Rail System to allow various accessories to be mounted to the bike.
Haibike are launching eConnect 2.0. eConnect has been available to retrofit onto Haibike bikes since last year, allowing GPS tracking, Crash detection and route mapping. eConnect 2.0 will be an even easier and more informative app update.
Along with the above updates, Haibike will of course be launching a range of new Bosch and Yamaha based bikes with updated spec and colour, all of which will be on our website very soon.