Haibike 2018 Launch
Haibike 2018 Launch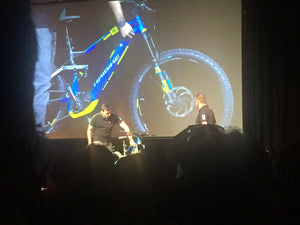 This Weekend we attended the Haibike MY18 product launch in Schweinfurt, Germany. 
This event was attended by over 500 of the top Haibike dealers around the world and involved various presentations throughout the weekend to show us the new and exciting things coming for 2018.
Not only that, but it also involved a day of trying out the new bikes on trails through the local forest in lovely 30 degree heat. As always the new Haibike models were great to ride. Not a bad days work!
So What's New? 
To start with Haibike have decided to simplify the naming of their extensive product range. 
You may already know that Haibike split their bikes into the categories Sduro (Yamaha) and Xduro (Bosch). For 2018, This will change.
Sduro will now mean Sporty.
Xduro will now mean Extreme. 
This new name system has been designed to make the process of you choosing your Electric Bike easier and clearer. 
The Sduro (Sporty) Range
The Sduro range will be more suited to relaxed riders with a slightly more comfortable Geometry and Design. The range will include Electric Bikes based on Yamaha PW, Yamaha PW SE, Yamaha PW-X & Bosch CX motors. 
Sport/Full Suspension:

 

FullLife / Full Life LT / FullSeven / FullSeven LT / FullNine 
Sport Hardtail: HardSeven Carbon / HardNine Carbon, HardSeven / HardNine, HardLife, HardFour
Adventure:

 

Cross, Trekking
Expect the prices of these bikes to range from entry level to premium. 
The Xduro (Extreme) Range
The Xduro range will be more suited to extreme riders that are looking for more thrilling and advanced riding. These bikes will have a more aggressive geometry and design and be based on either the Bosch Cx, Yamaha PW-SE or Yamaha PW-X motor.
Advanced Offroad: Dwnhll, Nduro, AllMtn, FullSeven Carbon
Fat eBikes: Full FATSIX / FATSIX
Expect the prices of these bikes to range from mid-range to premium.
The E-Systems - What's New?
Yamaha
New for 2018, Yamaha have launched the PW-SE Motor. This will be more powerful then the PW motor and less powerful then the PW-X motor. Within the new Haibike range it will feature on various Sduro and Xduro Electric Bikes.
Bosch
As mentioned in a previous blog, Bosch have introduced a lot of exciting updates for 2018. The new Haibikes based on the Bosch Cx motor will feature the EMTB mode and some of them will even feature the very exciting new Bosch 500Wh PowerTube which will make the bikes look even slicker then before. This will be intergrated into the bottom side of the down tube (as seen in the image above) and will be protected by a specially designed Haibike SkidPlate, similar to the one used to protect the Motors. 
Other Haibike Updates
E-Connect 
The E-Connect system which has been a feature on the high end Yamaha based bikes in 2017 will be available for retro-fitting on all Bosch and Yamaha based Haibikes from 2014 onwards. This Offers functions such as GPS theft control, Crash detection, Bike locator & Route recording. For more information on this please contact us on 01273 625060. 
Modular Rail System
Haibike's fitted with the Bosch PowerTube will also benefit from Haibike's Modular Rail System. This is a system that will be on the top of the down tube and allows various parts and accessories to be fitted to the bikes frame. The accessories availalbe are a specially designed drinks bottle, a clever intergrated locking system, a second Bosch battery (Potentially taking the overall battery capacity up to 1000Wh) or bag that can fit an inner tube and tools or other necessary riding kit.
The image below shows the dual battery system. 
Haibike 2018 Availability 
At Electric Bikes Sussex all the products are on our website via this link. We can now take pre orders over the phone or in-store. 
Some of the new Haibike range is available now! With the rest of them expected closer to the end of the year/beginning of next year. For more information call us on 01273 625060 or email us at info@electricbikessussex.co.uk.
To keep updated with news on the Haibike range and other Electric Bike news please sign up to our newsletter via the link in the footer of this page.