The New Raleigh Motus Range - Explained
The New Raleigh Motus Range - Explained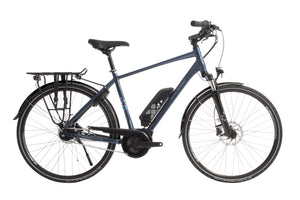 The Raleigh Motus has been a popular bike in Raleigh's city/touring range of Electric Bikes for a number of years, however, in May 2018 Raleigh launched an all new Motus range of bikes to cover an even wider scope of requirements. There are now three bikes in the range to choose from; the Motus, Motus Tour and Motus Grand Tour. Each bike caters for slightly different needs and comes with different setup and sizing options, totalling amassing 33 possible variants to choose from. This article explains the differences between them to help you choose the right bike for you!   
Raleigh Motus
The Motus is the starting point in the range of bikes and at £1650 it offers fantastic value for money! The Motus is a fully equipped bike packed with extra features and quality components such as disc brakes for ultimate stopping performance, reflective ebike-specific tyres, a traditional bell, adjustable handlebar stem and 7 speed derailleur gears. It is ideal for city riding, surfaced roads or cycle paths so you can use it as a cohesive part of your everyday life. Powered by Bosch's new generation Active Line motor and a 300Wh battery, it gives you 4 different assistance modes with a maximum assistance of 250% and a range of up to 90 miles, resulting in a very capable bike!  
To view the Motus on our website please click here.
Raleigh Motus Tour
The Motus Tour has an increased range along with higher specification components and a different gearing option. The Motus Tour is perfect for a range of city trips, relaxed tours and weekend trails. The 400WH battery will allow you to ride for up to an impressive 110 miles on a single charge, again with Bosch's new generation  Active Line motor, you'll be able to tackle even the steepest hills!  The Motus Tour also benefits from the upgraded Intuvia, which gives you maximum clarity and convenience with the display centrally mounted on the stem. It also contains more riding data such as maximum speed, average speed, clock, trip time and gear shift indicator, helping you to achieve maximum benefit from the motor by suggesting a gear change, if necessary. Along with the choice of frame size and colour, the Motus Tour also comes with the option of an internal hub gearing system to improve reliability, ease of use and reduce home maintenance. 
To view the Motus Tour on our website please click here.
Raleigh Motus Grand Tour
The Motus Grand Tour sits at the top of the range of Raleigh Motus bikes, with a more powerful motor and premium components. The new generation Active Line Plus motor makes its first appearance on a Raleigh electric bike offering an almost completely noise free experience and a higher level of pedal rate detection to improve cycling efficiency so you can get the maximum enjoyment out of your journeys. What's more, with a maximum assistance output of 270% you'll find the hills a breeze compared to a regular bike. It also has the choice of internal hub gearing along with frame size and colour, making the Motus Grand Tour the most versatile and capable bike out of the three. 
To view the Motus Grand Tour on our website please click here.
Key Feature Summary Table
Here is a handy table summarising the main differences between each Motus model and some of the key features to be aware of when deciding which one to choose.
Features

Motus

Motus Tour

Motus Grand Tour

Motor

Bosch Active Line

X
X

 

Bosch Active Line Plus

 

 

X

Battery

Bosch  300Wh

X

 

 

Bosch  400Wh

 

X
X

Display

Bosch Purion

X

 

 

Bosch Intuvia

 

X
X

Lighting

 

X
X

Wheel Lock

 

X
X

Suspension Seat Post

 

 

X

Mini Pump

 

X
X

Hydraulic Disc Brakes

X
X
X

Available With

Derailleur

X
X
X

Hub Gear

 

X
X

26" Wheels

X
X
X

700c Wheels

X
X
X

Small or Large frame

X
X
X
We have all the Motus models in store available to test ride! To book a test ride in please click here or for any further information you can contact us on 01273-625050 or email us at info@electricbikessussex.co.uk