Electric Bikes Sussex - "On Tour". Germany 2018
Electric Bikes Sussex - "On Tour". Germany 2018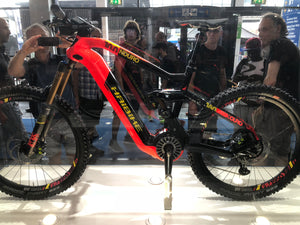 Read about our Visit to Bosch eBike HQ; EuroBike and the 2019 Haibike launch
Dinner was over, so I bid farewell to the family and headed off in my Motorhome for a late Tuesday evening Eurotunnel crossing to Calais.  No traffic and cheaper fares make this my preferred time to travel. 
As a leading specialist Electric Bike retailer, it's in our DNA that we want to bring our customers and potential customers an intimate knowledge of the products we offer. We also feel it's important to invest in strong working relationships with our suppliers.  Without these, we can't credibly use the word 'specialist', but would otherwise be a "me too" retailer.
The plan had been developed over the proceeding weeks.  A happy coincidence of several Bike related events and the opportunity to squeeze in one or two personal appointments as well, meant a Road Trip was in order.
Waking on Wednesday morning, in the Motorhome parking area of Cite Europe, I had a quick chat with some friends on their way back to England and then started a long drive. Destination 1 was a visit to Bosch eBike HQ in Reutlingen, Germany.
Using the Motorhome to its fullest, I decided to avoid any tolls and took the scenic
 route.  Lille; through Belgium to Luxembourg and on towards Strasbourg. Serious traffic; road-works and some torrential rain meant a long drive was terminated early in Metz.  A Motorhome camping facility on the banks on the river Moselle saw me finally chilling out in very picturesque surroundings.
Metz to Strasbourg was easy. From there it was onwards to Bosch. The scenic route this time took me through the finest scenery of the Black Forest and some seriously tight and twisty mountainous roads. It reminded me that I love these sorts of trips - they're much removed from the Airport; Hotel; Conference Centre; Airport routine – and much better for it.  
Bosch eBike HQ
Arriving at Bosch fairly late on Thursday evening, I found a nice quiet parking spot. Before retiring, I couldn't resist a quick walk around the perimeter of the new bespoke "eBike test track" that's under construction.
Friday saw me being shown around the Bosch complex – a highly enjoyable trip.  From R&D, through the extensive testing that all components are subjected to and a road-map of upcoming technologies, this was information overload!  A detailed lesson on Motors; Batteries; charging; life-span and such like. Not to mention an in-depth conversation about legislation; speed-pedelecs; anti-tampering and other topics.  At Electric Bikes Sussex, we're proud to be one of only 10 Bosch eBike Experts in the UK, but this was way beyond any 'normal' training.
Not only was it a real privilege to have access to this level of knowledge, but to then establish that we are the first UK Dealer ever to visit Bosch HQ was humbling.  We were also reminded of the when senior Bosch
Executives visited the UK, it was Electric Bikes Sussex that was chosen to host them.  1 of 10 is great, but perhaps we've progressed beyond that!
From Bosch, I made a quick stop just up the road at Metzingen. This used to be an authentic Outlet shop for the adjacent Hugo Boss factory.  Now the town has been re-engineered and has an Outlet shop for every brand you've never imagined!
EuroBike 
Metzingen on to Friedrichshafen for the EuroBike show.  This is the biggest Bike show in Europe and for 2018 was made "trade only".  It's also the location where nearly all brands launch their new products for the 2019 season.  Bizarrely, only a very small number of UK Bike Dealers visit, which we always find astonishing!  How can they consider themselves industry "professionals" when they don't even stay abreast of the products available?
I parked at the onsite Camping facility and was adjacent to the eMTB Magazine journalists – a great chance to discuss the industry and supposed competitor brands and get their perspective. 
At 11:00 on day one, Haibike launched their 2019 Flyon mod
els.  Literally, this not only stole the show, but is one of the biggest announcements in the Electric Bike world since Haibike launched the first Electric Bikes back in 2009.
Flyon is discussed in more depth below, but for now we'll leave it with one word:  Wow! 
EuroBike also saw us being briefed by other Suppliers on their 2019 Bikes; We also caught up with the latest offerings in the world of Parts & Accessories; undertook many test rides; checked out the fast expanding Electric Cargo Bike sector and also the Electric Road Bike models.  Keep watching our website for some interesting solutions coming your way soon.
One of the interesting upcoming developments is the new Bosch ABS system.  Here at Electric Bikes Sussex, we've tried and tested it, in person, for your benefit.  Using technology developed by Bosch in the Motorcycle sector, this offers much greater stability and reduced stopping distances.  
Many of you may be aware that I used to run the UK business for a big European
Motorhome Manufacturer. One of my friends from that industry is a close relative of Erwin Hymer – probably the most famous person in the whole industry.  Visiting Kathrin; Adrian and their 3 lovely children as well as their 500+ year old traditional Bavarian house was incredible – as was a very tasty home cooked dinner after a week on the road. 
Frankia
Like all Road trips, it's always onwards to the next destination.  In this instance, the
 Frankia Motorhome factory near the German/Czech border.  Frankia is part of the group I used to represent, but I'd never had a chance to visit this factory before.  Fabrice (French) kindly hosted me and gave me a personalised tour.  We even got a chance to watch the France -v- Belgium world cup game together and share a very tasty traditional German meal.
Haibike MY2019 Launch
 Leaving Frankia, I was headed across to Schweinfurt, home of the mighty Haibike.  I've visited Haibike on a couple of occasions and of course met the team again the week before at EuroBike.  This familiarity is very helpful, as there's no standing on ceremony, I was able to get straight on and maximise my time there.  With Haibike Dealers from around the world and only Electric Bikes Sussex representing the UK, Haibike put on a great show and have lots of experts available to discuss the finer points of their product(s). Check out our Video blogs, including with Christian Malik, head of R&D elsewhere.
Of course, first on the agenda was a Test Ride of the incredible new Flyon range. Launched just one week before, this was the first opportunity of a test ride. I'd learnt a lot already about the new Flyon range and the TQ motor that's a core part of the Bike. I'd also been surprised at how incredibly positive the eMTB Journalists team had been – hardened Journo's don't normally get that excited about a new product!!
So it was with some high expectations that I jumped on a bike for the very first Dealer test ride. What normally happens when you have such high expectations?  Yes, my expectations were shattered - but in a positive way. All the benefits of Haibike: great riding positions; geometry that works; high quality paint jobs and a completely integrated Electric Bike solution.   
In its own right, the TQ motor is incredible, with up to 120Nm of torque. This is about 50% more powerful than anything else on the market.  But equally impressive is the way Haibike worked with TQ to make this a truly integrated and bespoke solution.  From onboard controllers; to a 630wh battery; quick chargers; lights integrated into the frame; and an attention to detail that included tuning how the power is delivered, all combine to make this a giant leap forward for the Electric Bike industry.
Of course, it's not all about Flyon.  Haibike also presented a completely updated range of bikes based on Yamaha, with its newly integrated
battery technology and the latest Bosch motors.  As normal, there are bikes for each of the: Cross; Trekking; Hardtail; Full suspension, including All Mountain; NDuro and Downhill models. 2019 sees more bikes in the "Life" range – bikes developed with geometry likely to be more suitable for women.
With over 50 different models, each in a choice of frame sizes, there's bound to be a Haibike for you in 2019.  With prices from £1,749.00 through to £7,999.00, every budget is accounted for.
We've always been very proud to sell Haibike and with the massive updates coming in 2019, their number one position in the market-place seems sure to get even stronger!  Of course, this means the Bikes will be in huge demand, so do make sure that you get yours reserved at the earliest opportunity.  The sooner you join the queue, the sooner you get your bike!
Homeward Bound 
From Schweinfurt, the next destination was back home.  A long drive back towards Brighton & Hove.  Punctuated by a Sunday night next to a football stadium in Belgium, watching the World Cup Final and a quick swim at Dunkerque before heading back on the Eurotunnel and home.  Something like 1,600 miles, 5 major destinations and a huge amount of additional knowledge to help develop our business further.
Come and join us on our journey and get your Electric Bike from one of the UK's leading Electric Bike Dealers. We really do go to great lengths to deliver you leading products, from leading suppliers, at competitive prices.