Electric Bikes Sussex just got faster…
Electric Bikes Sussex just got faster…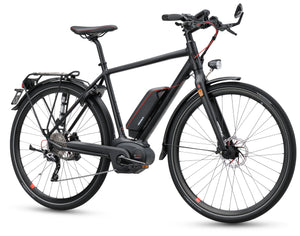 Do you want to go faster on your electric bike, but still be 100% UK legally compliant?  Want more speed than the standard electric bike restriction of 25kph (15.6mph)?  Do you want to cycle even further, even faster and get even fitter?  Now you can.
Electric Bikes Sussex are delighted to bring you a new type of electric bike. Known as a "speed pedelec", this is a traditional looking bicycle, with some key differences.  Firstly, it allows the power to offer assistance all the way up to 45kph (28mph).  All the components – including brakes, wheels, forks and frame – are approved for these higher speeds.  There are various other mandatory differences. For example, a speed pedelec must have a mirror, daytime running lights etc.
However, the biggest differences are legislative.  The UK doesn't (yet) have a speed pedelec category, so they're categorised as mopeds.  This means that a speed pedelec must be registered with DVLA, must be Taxed, must have a valid MOT (if required) and the rider must be licenced and Insured.  They're also not allowed to use dedicated Bike Lanes.
Whilst this all sounds simple, a quick browse online will demonstrate how difficult this has proven and that many people have been unable to complete this process successfully. 
Electric Bikes Sussex are therefore delighted to announce that they have recently successfully navigated this process and now have a fully UK compliant speed pedelec of their own for Demo purposes. 
Managing director Graham Rowe explains: "It's true. You can now buy a speed pedelec for yourself.  We also offer a personalised 'registration service', whereby we can clear all the regulatory DVLA Registration challenges on your behalf, leaving you to arrange insurance and ride away." 
He adds: "It's very important to understand the distinction between these 100% UK legally compliant models and other inferior, or illegal electric bikes.
"With a choice of bikes, from leading European brands, including Koga and Riese & Muller, and with prices from around £3,299 why wouldn't you want one?"
The Rules: 
To be classified as an electric bike, a bicycle must comply with all of the standard bicycle Construction & Use criteria.  It must also meet the following three specific conditions:
Not offer more than 250W of electrical power output
Must have pedals that can assist the bike
Must not assist beyond 25kph (15.6mph).
If it is compliant with these requirements, the manufacturer should be able to get the European Homologation (Certificate of Conformity), or have UK-based EAPC Type Approval.
Compliant Electric Bikes, just like normal bicycles, can be ridden without a licence, insurance, registration, tax or MoT, and the rider is not mandated to wear specialist safety clothing.
Commuters:
Research carried out by University of Brighton showed that the average cyclist considers a reasonable commute by conventional bike to be two to three miles.  Ask the same question to an electric bike commuter and they say eight to ten miles.  This means that commuting by electric bike becomes more realistic for a much wider range of people.  Inhibitors to people commuting further is speed and/or or duration of journey.  A speed pedelec can reduce journey times significantly.