Electric Bikes Sussex – Goes to Parliament!
Electric Bikes Sussex – Goes to Parliament!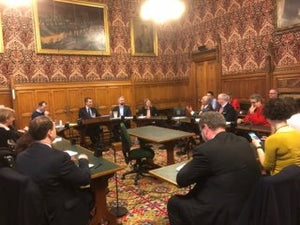 The Invite said:
The All Party Parliamentary Cycling Group are pleased to invite you to attend a panel event focused on how the UK can seize the electric bike opportunity and increase the number of people using electric bikes.
So there we are: From our humble beginnings in Brighton Marina, we joined various Industry specialists on Monday 12th March, 2018, in Committee Room 15 at the House of Commons. 
The event was chaired by Andrew Selous MP, with various other parliamentarians and members of the House of Lords present. Guest speakers came from the Cycle to Work (C2W) alliance; TfL and Brompton Cycles.
A general discussion ensued about Electric Bikes, the opportunity and the surrounding issues, including the legislative framework; the EU initiative to prevent Chinese Bike Dumping; raising the C2W to £2,500 limit; and numerous other topics.
There was general acceptance that a "Commuter grade" electric bike was likely to cost around £2,500, which is born out from statistics gathered from other EU countries and the C2W scheme.   It's interesting that here at Electric Bikes Sussex we start at around £1,750 and have numerous options around the £2k mark. All present agreed that once people try an Electric Bike, is when they fall in love with them.
The huge benefits of Electric Bikes and how they can help society were also raised, although not in enough detail. Germany have taken their market from €25m to €1.2billion in 5 years. 1 in 4 of all bikes sold in Germany is now an eBike and the prediction is that it will soon be 1 in 3. Of course, not only is this good for the ailing Bike Industry, it also provides a wide range of benefits for society, including improved physical and mental health, lower pollution, less congestion and faster commutes.
Overall, I felt the session wasted a great opportunity to extol the virtues and spent too long with housekeeping issues.   It was great to be invited and I believe we were the only Retailer present. Not only am I happy to represent the Industry, but feel it is also a massive vote of confidence in our credentials and reputation.