Bosch Updates 2018
Bosch Updates 2018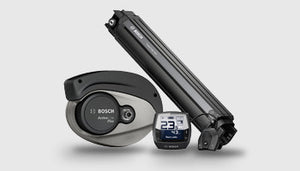 Bosch are always looking for ways to improve their motors and batteries. Because of this they are widely thought of to be market leading. For 2018 they have a range of new updates to their motors and software. Below are some of these updates.
Active Line
Bosch will release a new Active Line motor in 2018, designed to deliver moderately dosed support for a relaxed ride. This will be 25% smaller then the current motor and will weigh just 2.9kg, this will make it among the lightest crank drive motors on the market! The new motor will also be equipped with a new gearing set up resulting in even lower pedal resistance.
Active Line Plus
Bosch will also launch a slightly sportier version of the Active Line, called the Active Line Plus. This will also feature the new gearing set up and smaller size but with slightly more torque to give you a bigger push up those steep hills!
The smaller size and weight of both motors will help to improve handling and make it a more natural ride.
eMTB Mode
Bosch will be shortly be launching eMTB mode to go with their Performance CX Motors. This will replace the current Sport mode and will automatically switch between tour and turbo depending on your terrain and pedal pressure.
The system detects which mode will support you best and takes away the hassle of changing modes when you want to be focussing on the trails!
This will be available as an update on all 2016/2017 models with the CX Motor and will be a feature on all CX based 2018 models. This update should be available by the end of July. To book in to have this mode enable on you Bosch CX Motor based bike, please call us 01273 625060.
PowerTube 500
For 2018 Bosch have released the PowerTube 500. This is a battery that can be integrated into the bike frame! Giving bikes a clean and seamless look. When unlocked the battery can pop out the frame for charging. There is also a safety catch, which prevents the battery from falling out if not properly locked in.
Bosch ABS
Bosch has also introduced ABS. This is a combination of front wheel ABS and rear wheel lift control: The pressure on the front brake is regulated during critical braking manoeuvres and stabilises the riding situation – an advantage particularly during trekking and city riding.
Front Wheel ABS
Wheel speed sensors monitor the speed of both wheels. If locking of the front wheel is anticipated during heavy braking, the ABS system improves the riding stability of the eBike – especially under slippery road conditions. This significantly increases control as well as safety.
Rear Wheel Lift Control
This reduces the possibility of the rear wheel lifting when the front wheel brake is applied forcefully. The likelihood of flying over the handlebar is reduced. This allows you to use the front brake more actively and efficiently.