Bilis - The Electric Mo-Ped
Bilis - The Electric Mo-Ped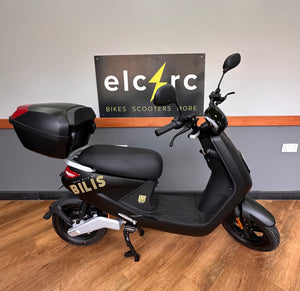 Here at elctrc we are constantly thinking of new products we can add to our offering to customers to help solve their travel needs!
We started our journey to find an electric MoPed that used a motor we trust, had UK based support and was able to give our customers the level of satisfaction we always strive for. Introducing, Bilis. The team at Bilis decided that after many frustrating, expensive and concerning commuting experiences in Glasgow & London - Bilis was the answer to the question "is there a fun, fast, affordable and safe way to commute?"
Lightweight and sturdy - with all the range you'll need for city riding. Bilis Electric Mopeds are ideal for anyone who's looking for a lean, green, electric moped machine. Featuring a Bosch motor with a Top speed of 28mph and a Range of up to 80 miles with 2 batteries it's a great answer for fun lovers, city commuters and people looking for an affordable way to get around. Charging is just like you'd charge your phone. Both the batteries are removable, so you take them into your home or office, anywhere that's got a 3 pin plug. 
No gears, no biting point, no oils and no fuel. Just turn on, twist the accelerator and silently and swiftly go!
Bilis offer a range of accessories and with different payment options you can get out on the road for as little as £41.98 per month!
Like owning any vehicle there are some extra costs to consider, some of which include, Insurance and breakdown cover, Servicing and parts, MOT (for the first 3 years you won't need to worry about this) and you'll need to factor in the cost of a decent helmet at the start. However, being Zero emissions you won't need to worry about road tax and most places offer free Mo-Ped parking! 
The most common question, Does this mean I need a licence to ride? If you don't have a driver's licence, you can still ride a Mo-1 if you're aged 16 or over, have a provisional drivers licence and complete a Compulsory Basic Training (CBT) course (1 day). You'll need to repeat your CBT every 2 years until you get a full licence, which is what a lot of people do. If you already have a driver's licence, you may not have to do anything extra to ride.  If you passed your driver's test before 1st February 2001, you should have category AM or P written your existing driving licence.  This means you can get straight out and ride! If you passed your driver's test after 1st February 2001 you only need to complete the CBT course.  You do not need to complete any theory or practical tests.
 View the Bilis Mo-1 on our website here or in our Brighton store!