elctrc/Beacon Bikes Partnership
elctrc/Beacon Bikes Partnership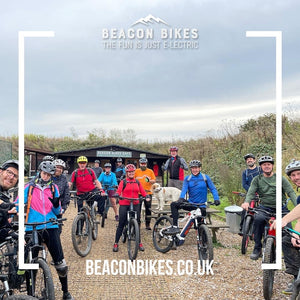 We are excited to announce a new partnership with Sussex's premier Haibike Electric Mountain Bike rental company - Beacon Bikes.
Beacon Bikes is an established electric mountain bike rental company and Cycle Cafe based at the foot of the beautiful Sussex South Downs. Just 6 miles from Brighton, Beacon Bikes has the largest fleet of Haibike Electric Mountain Bikes for rental in the UK. Offering self guided, guided and organised tours, Beacon Bikes is the No.1 choice for e-MTB rental in Sussex and enjoys an enviable location just a short ride from the famous South Downs Way. With ample free onsite parking, a cosy cafe offering the award wining coffee and local sourced food, Beacon Bikes is a haven for cyclists and the perfect place to start your journey with electric assisted cycling.


https://beaconbikes.co.uk/

Rent either a Haibike hardtail or Haibike full suspension electric mountain bike for half a day from Beacon Bikes and receive the cost of your rental as a discount on the purchase price of an electric mountain bike from ELCTRC! This provides our customers with the opportunity to try two of the most popular and capable Haibike e-MTB models in their proper environment before taking the plunge with your purchase. And for Beacon Bikes customers, if the rental gets them hooked and they decide to purchase, the cost of their rental from Beacon Bikes will be applied as a discount on the purchase price from ELCTRC. It's a Win-Win for both sets of customers!

As our partnership grows, ELCTRC and Beacon Bikes plan to hold a series of joint events such as family friendly e-bike open days, guided rides, new product launches and much more.  ELCTRC and Beacon Bikes share the same mission - to provide our customers with market leading electric bikes and 5*customer service, whether for hire or for sale.