The Winora eLoad comes to (save) Brighton & Hove.
The Winora eLoad comes to (save) Brighton & Hove.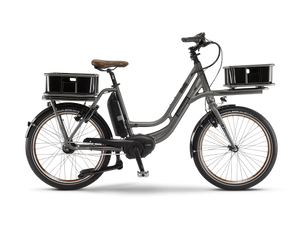 For the "Movers" amongst us:  from Children; to Parcels; Cleaners to Care Workers, Delivery Drivers to Deli Owners; Pharmacists to Retailers; Estate Agents, Surveyors or anyone else that needs to get around the City with some luggage.  The Winora eLoad is now available at Electric Bikes Sussex.
With a load capacity of 180Kg in a format that can be adapted and the Bosch Performance Line Motor, the Winora eLoad comes with a specification that is very "Fit for Purpose".  
Inspired by the "Cycling Cities Europe" initiative, of which Brighton & Hove represents the UK, the objective is to make businesses more efficient whilst improving their Carbon Footprint.  
Many German Cities have Low-Emission Zones and the big Delivery companies are aware that their sign-written Diesel Vans enter these LEZ's and then park on pavements to make their Deliveries.  Conscious of brand damage, they're seeking more environmentally friendly ways of getting your package delivered quickly.
Can you, or a business your friends with, benefit from the Winora eLoad?  Available from just over £3 per day (0% over 24 months), with Leasing Terms also available.  Come and see the amazing Winora eLoad, in store now at Electric Bikes Sussex.