Sussex Pedelec Club - The 1st Ride out....
Sussex Pedelec Club - The 1st Ride out....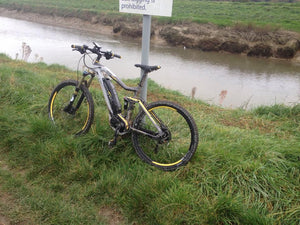 November's weather did it's best to dampen the day, with howling gales and strong winds.  Of course some people cancelled, but the hardy souls were undeterred.
The event morphed from the intended Leisurely ride, into a 20 mile South Downs route that was certainly of the more advanced and strenuous type!!   Recent rainfall meant there were 'ponds' on top of the Downs. The wind meant the Ponds had waves and the waves were so big Surfers were considering donning their wetsuits!
OK, the last bit is an exaggeration, there were no surfers, but it was wet, windy and cold, with pedalling necessary on the downhills as well as uphills!  Thank goodness for Electric Bikes, as otherwise I think we'd still be out there now :-)  Aching muscles are probably the order of the day
I imagine everyone would agree that sunny, balmy and warm days will be more desirable in future.  Perhaps there's a nice Indian Winter around the corner for the next event.... watch this space for future dates.