Pop-Up Shops
Pop-Up Shops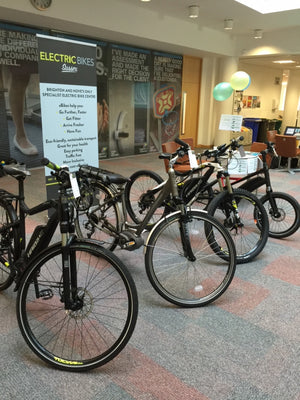 Most of you will be well aware of the Retail side of our Business however we we thought you might also be interested in some of the other activities we undertake. For example, in recent weeks we have been invited to run "Pop-Up Shops" in a number of the more enlightened Businesses locally. Including: EDF; Legal & General; The BSUH NHS Trust and the University of Brighton. 
These Organisations are recognising that Employee health, both physical and mental, is of ever increasing importance. Many of the companies also find their Employees have parking and general transportation issues. Productivity can also be a factor, where some Employees spend valuable time getting to work stuck in congestion; struggle to find parking and arrive at work in a less than optimal condition.
Research shows that the typical acceptable commute distance increases from 3-5 miles on a legacy bike, to 10 miles on an Electric Bike. The same research shows that Electric Bike users typically cycle more often and go further – giving more even health benefit(s) than the legacy bikes. 
The City of Brighton & Hove is thankfully one of the more advanced nationally from a Cycling perspective. We benefit from better infrastructure than many other authorities. (EG: Bike lanes; advance stop areas; Bikes go First traffic lights etc) and have higher rates of cyclists as well.  
As well as the work with the local Businesses, Brighton & Hove City Council undertakes a personal transport planning session each year. Typically, this involves knocking on 10-15,000 doors of Residents, within targeted areas, to assess their transport needs; inhibitors; alternatives etc. For 2015/16 all of the "Travel Consultants" had the opportunity to ride our Electric Bikes and assess the Benefits for themselves, so they could speak with knowledge to the Residents and offer our leaflets.
You may have read elsewhere of our love for the South Downs National Park and the amazing cycling opportunities it offers. Electric Bikes Sussex are delighted to have been invited to join the Steering Committee of a "Park Wide Bike Hire" project that is underway – more about this at a later date.
Our Local Authorities; Universities; the NHS Trusts and lots of local Companies are all aware of the extensive benefits Electric Bikes offer and we at Electric Bikes Sussex are very pleased and proud to be invited into so many Sustainable Transport initiatives. It's just so rewarding to see the positive reactions when people try the Bikes for themselves. 
If you'd like to know more, or can help us spread the word further, please don't hesitate to let us know – thank you.