Matt's Story - Haibike AllMtn 6.0
Matt's Story - Haibike AllMtn 6.0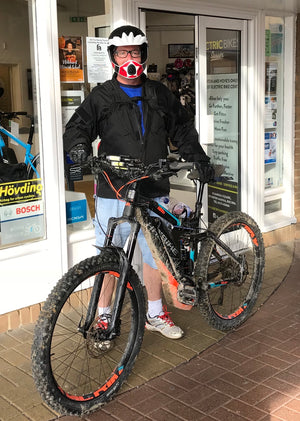 Many years ago, I used to do a lot of motorcross, petrol ran through my veins, I moved to Wales to pursue my weekend hobby of green laning and enduro riding across the Black mountains, the Ridgeway, Peak district and anywhere I could. 
I fell off and snapped my neck, paralyzed my left arm and took 6 months to regain use, I then banned myself from riding motorbikes...
About 3 months ago I was sitting in a car near Beachy Head and said to my friend how nice it would be to ride across the seven sisters and beyond, he said why don't I, and I explained you can't with the noise and legal side. He said how about electric!
That's what re-opened the world of off road to me again, I looked, studied and researched, I trawled through Ebay daily until a 250w electric bike came up on Ebay, used but as new for £500. I bought it, did some miles, the Cuckoo trail, Seaford beach and a little off road on paths and tracks, however it was a mountain bike with a pedal assist motor and nothing more other than a big weight to carry over a stile at about 28kg. Thin tyres made ruts tricky, even though it had full suspension it wasn't designed to really go off road, small bumps and gravel were it's limit.
I then re-considered my options, 1. go outside the law and get a Bultaco Brinco, 2000w of throttled power with pedals, Stealth E-Bikes, same thing but also an accident waiting to happen, both are heavy, fast and also not legal. Being caught in a public place on an illegal bike would probably lead to the bike being confiscated, me being charged the same as riding a dirt bike on public land and even worse, what if some dog walker got hurt.
With 250w as the only option to stay legal, especially with the amount of Police interest in the growing market of electric bikes, I researched again, youtube and more youtube.
Haibike AllMtn kept coming up, local dealership was in Brighton Marina, very handy for help, spares and warranty concerns. I popped in and the two chaps were very helpful, I was shown the features and the benefits, it was obvious this is what I needed to conquer mountains, albeit whilst trying to loose weight, get fitter and live longer.
My Doctor put me on heart pills 6 months ago, I am 46, 15 stone and a long time smoker, he said do some exercise but don't over do it. 
£3200 was the price tag, I thought and then decided yes, I could not afford it, but on the other side, could my health afford me not too, if I didn't buy it now would I buy it next year? or the year after...so I jumped in.
I bought a Haibike AllMtn 6.0, about 4 weeks ago, it was big, built to do the job, a tool for covering large areas, fields, tracks and steep paths I wouldn't normally consider walking down. 
Initially my arse hurt for 2-4 days, then my knees ached for about a week, then my left leg sciatic nerve got really painful for 3-4 days on week 3 and I thought I wouldn't be able to keep doing this, having finally come through the pain of adjusting my body to it's new routine, I am loving it, I have fallen off, I have cut myself, I have bled...I have sweat and I have also found myself on top of a mountain with the most amazing views. 
190+ Miles of adventure over 4 weeks, Firle Beacon, the South downs, The seven sisters, Mount Caburn, I have been everywhere and with a smile on my face, absolutely loving it. 
I get about 25 miles of off road, hill and track riding from 1 charge, more if I turn down the assistance and push myself harder, it doesn't do the work for you but it makes an adventure out of what I would do on a normal bike, I might go from Newhaven to Seaford and back on a mountain bike, now I will go to Seaford, over the golf course, view Alfriston from above, follow round to Firle Beacon, wizz down the hill and over to Piddinghoe, back up on the top of the downs, through into Telscombe, follow the coastal path to Newhaven fort and return home muddy and happy and having had a great 4 hours of exercise whilst witnessing all manner of things I couldn't have imagined.
I am just about to leave right now to ride from Newhaven to Beachy head and back over the Seven sisters. 
The Bike is a tool for the job, for sure.