Mark's Story - Haibike Sduro FullSeven LT 4.0
Mark's Story - Haibike Sduro FullSeven LT 4.0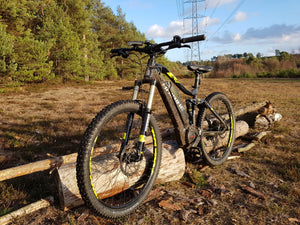 This story starts in Halfords when I was buying something else. I was eves-dropping a conversation between a customer and sales staff over a Carrera X over an electric bike and was impressed by the range and the way you could adjust the amount of assist given. Further info was gleaned from the interweb and there seemed to be an issue with it cutting out sometimes so really dismissed this bike.
Further investigation into E-MTB soon revealed that better brands had drive to the bottom bracket rather than the motor being built into the wheel hub. I must admit that the some of the prices made my eyes water, one I noticed was £10k, when I bought my car (new) 8 years ago that was only £5k more.
I soon found Electric Bikes Sussex and rang them up and spoke to Lucy who arranged for me to come down from Surrey the next day for a meeting with Graham.
Being near the end of the year all the new bikes would soon be for sale but I had my eye on some 2018 bikes and they also had the new 2019 Haibike AllMtn 3.0 on display which is very nice but a bit more than my spending limit I had set. But they did have the one that first took my eye, the Haibike Sduro Fullseven LT 4.0.
So keeping my sensible head on I went ahead and purchased the bike and headed home. I didn't get a chance to ride it until the next day. So I popped into the car and drove to an area I knew that had some trails.
I started off with the power off to get used to the bike and after about five minutes popped it into ECO setting pedalled a bit harder and Wow! The bike seemed to take off. I don't know what I was expecting really but the assist was great. I should add at this point that I am 56, a few stone over weight but reasonably fit due to my job. I used to ride a lot but not done anything off road for around 12 years and have decided to make a real effort to lose the excess weight.
I rode for just over 10 miles and only used the max power setting to try it out really. I managed to go up a hill around 150 meters long and around 1in8/9 in ECO mode and didn't have to get out of the saddle and only pleasantly out of breath at the top, don't let anyone tell you E-MTBs are cheating because you can still turn the assist down or even off.
After the ten miles I still had 91% in the battery. If the going was level I turned the assist of completely and didn't really come out of ECO mode much a lot of it when needed was spent in ECO+, the lowest setting.
So I would like to thank Graham and his team for their advice and time. I was made to feel welcome and there certainly was no 'hard sell' and certainly recommend them.