James's Story – Riese & Müller Homage
James's Story – Riese & Müller Homage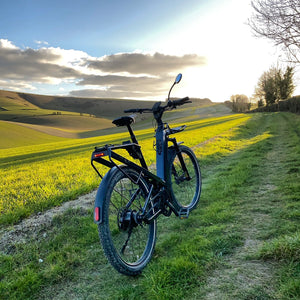 Which Electric Bike Did You Purchase?
A Riese & Müller Homage GT Rohloff, with GX option. This has the Bosch Performance Line CX Motor, 625Wh Battery, Nyon Display, Rolhloff E-14 gears and Schwalbe Johnny Watts tyres.
Why Did You Purchase This Electric Bike?
I'm 64 and 6'4" tall. I have cycled all my life and previously owned a Kalkhoff ebike. I decided I wanted an electric bike suitable for riding off-road as well as on tarmac. My choice was limited because I also wanted a step-through – getting my leg over a cross-bar is becoming tricky at my age! And I had further demands: full suspension… a powerful motor… puncture-resistant tyres… and bomb-proof, easy-to-operate gears (I've had too many broken chains and slipped gears in my time). The only bike that fitted the bill was the Riese & Müller Homage GX Rohloff. I researched it extensively online before coming into the showroom.
Graham gave me a test-rise on a Super Delite – not really comparable to a Homage but it made me appreciate the engineering excellence of Riese & Müller bikes. 
How Does This Electric Bike Ride? 
It took 5 months to get the bike because each Riese & Müller is custom-made and the company faced a backlog of orders during lockdown. In those 5 months I fretted over my choice – the bike was three times the price of my old Kalkhoff. Would it live up to expectations?
There were endless hold-ups. The delivery date kept slipping back. First it was mid-December… then mid-January… then early February… finally the big day arrived.  I was on tenterhooks as I walked into the showroom. Fortunately, I was immediately reassured by what I saw. The Homage gleamed. It looked so… solid. Like a Land Rover on two wheels. The cockpit was tidy. There were lots of thoughtful touches like a brake light and a built-in lock. Lucy gave me a rundown of the controls and I was off. I rode the 9 miles back to Lewes with a ridiculous grin on my face. The torque on the new Bosch motors is a colossal 85Nm – so powerful that I hardly ever use the highest (Turbo) level of assist. The suspension is floaty but firm. Even on rutted farm tracks the bike handles well. As for the Rohloff gearing system, it takes a little getting used to but to change gear all you need to do is press a button on the handlebars. It also allows you to move up or down three gears at once – handy when you stop at lights or go from hills to flats. Having said that, the Rohloff system is an expensive luxury: it's not a must-have. You may prefer the Enviolo or derailleur systems.
One thing I would definitely recommend is the Bosch Nyon. It's a brilliant bit of kit, essentially an onboard computer, complete with GPS. It gives readings like the percentage of your input vs the motor assist, heart rate, distance to destination, cadence and ascent. You can also plot a route and it will show you both the fastest and the most scenic way. I've discovered a lot of great bridleways over the South Downs as a result.
Do You Think Your Electric Bike Has Helped Your Health?
I'm out cycling 10-15 miles every day, rain or shine. I no longer use my car (a Land Rover, incidentally). I power up the steepest hills and along the most inaccessible tracks. The Johnny Watts tyres give a very secure grip on loose earth, grass and tracks. I return feeling like I've had a good cardio workout.
Is There Anything You Have Changed Or Would Change About It?
There was one thing that bugged me: the riding position. As I said earlier, I am very tall and I find leaning forward to grip mountain bike handlebars (supplied with the GX option) makes my shoulders ache. Unfortunately, the new Riese & Müller handlebar stems cannot be raised. After discussing this with Jake, and trying various options, he ordered some Comfort handlebars from R&M. They have a higher rise and, importantly, swept back handles. Brad fitted the bars and the difference is astonishing. What before was merely pleasurable is now a joy!
I customised the bike with front carrier and a dropper post – handy when tackling vertiginous descents.
If there's anything I can find fault with it is that the bike is HEAVY: around 30 kilos. The Homage also comes in a double battery version, tipping the scales at around 33 kilos. I can't imagine carrying one of those monsters up a flight of stairs! All R&M bikes are weighty – R&M don't skimp on the quality of the components – but it does mean that the bikes are unwieldy to push or carry. One other thing: I replaced the gel Selle Royale with my old Brooks leather B17 saddle.
Elctrc gave me a free 6-week service at which Brad tuned the bike, checked the suspension, updated the software on the Nyon and fitted the handlebars. Throughout the process the team at Elctrc have been first-class – fixing things free of charge, ordering extras and making sure I could fully enjoy the delights of ebiking.
Overall Conclusion 
Ebikes are the way forward. Once you've ridden one you'll never go back to an ordinary bike. You may even find you no longer need a car – Elctrc sell some mean-looking cargo bikes. With good dealer support (take a bow, Elctrc!) ebikes are easy to care for and a bundle of fun to ride. Expensive? Possibly. Life-changing? Definitely.