Emma's Story - Raleigh Motus
Emma's Story - Raleigh Motus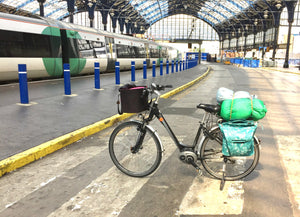 I've owned and used a non-electric bicycle regularly since my twenties (I'm 44 now). I've never been particularly athletic or interested in cycling as a sport, but I've appreciated the freedom and joy of using a bike. I also find public transport quite stressful and get travel-sick. Due to health issues, however, I was finding I was running out of steam a bit on my non-electric bike, and harder pedalling was hurting my back. It was frustrating to have to wheel my bike up hills, and I realise now that this was taking the enjoyment out of cycling for me a bit, and meant that I was often avoiding journeys that weren't fairly flat.

Previously, I owned a non-electric Raleigh hybrid bike. This was my only vehicle as I'm not a car owner. The electric bike I chose to buy in 2015 was the Raleigh Motus Low Step which cost £2000 at the time (a new Motus comes out each year). There was a similar bike for about £500 less, but I opted for the better battery option and wanted the extra oomph of a central crank. I also wanted a really solid frame as I'm overweight. My bike has a Bosch crank drive motor, 10 trigger shift gears and hydraulic brakes.


I was pleasantly surprised that the bikes looked so 'normal' - a friend had bought one several years ago and electric bike design has certainly come a long way since then! Electric Bikes Sussex offers a test ride, and their shop is in a great location for being able to cycle towards the undercliff and try out steeper slopes without facing traffic. I was impressed immediately with the difference from a normal bike and how cycling wasn't aggravating my back.

I tend to buy online much more than from walk-in shops, but was glad that I hadn't this time. The team at the family-run shop are super-helpful and approachable and I genuinely felt that I had bought the bike that was best for me as there wasn't a 'hard-sell'. Electric Bikes Sussex also kindly discount future maintenance work for customers who have bought their bikes there. They stock a good range of accessories, and much more on their website and if something isn't in the shop, they will order it in for you.


Features that I've especially appreciated about this bike are the integrated lights and the 'walk' button which gives a little burst of power to help you push the bike uphill/up curbs/up steps if you need to. The rear wheel lock is great for when you need to pop in to a shop and can just quickly lock the back wheel and lean the bike on its stand. The Intuvia computer that's part of the active line system for my model is a neat little gadget that you click on to your handlebars. You can scroll through to see the time, how far your journey has been, your speed and your battery duration on various assist modes and more. You can use the bike like a normal bike if you want to by just switching the assist modes off. There are four modes - eco, sport, tour and turbo. I use my bike on turbo mode for about half the time as it makes journeys so much quicker and makes most hills possible.

The bike came with a high quality seat, but I have always used the (sensitively named!) Big Bum saddle made by Selle which is sprung and very comfortably padded. Other accessories I've bought for the bike have been a BTR bike cover (hardy material and a good size), a New Looxs pannier bag and a Rixen and Kaul front basket with lockable bracket (this was third time lucky with my basket experimenting - and a good choice).


I've travelled 2000 miles on my Motus in just over 2 years and it's endured being kept outside, me not being the most attentive owner and a good few scrapes and knocks. I've noticed that the brakes need tightening more often than my old bike - but I think this is also to be expected as I'm now cycling down steeper hills and having to use the brakes more. The bike is quite heavy and can topple over when it's stood on its stand, especially if you have things in your front basket. Past these minor niggles, though, I can't think of anything negative about my bike - it's a bit of a love affair and proved a great investment. I go on more rides just for pleasure and I've been able to explore hillier places. Getting out into nature feels easier, and it's reassuring to know that I can get home quickly without having to wheel my bike for sections of a route. I also don't have any concerns about 'keeping up' with friends on their non-electric bikes! I cycle more often than I used to and for longer distances. I wouldn't say my physical health has improved but this bike has had a positive impact on my emotional health and my confidence to get out and about more. This has felt empowering.