Geoff's Story - Haibike Sduro Trekking
Geoff's Story - Haibike Sduro Trekking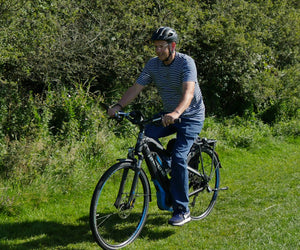 Which Electric Bike did you purchase?


Haibike SDuro Trekking,  fitted with the Yamaha Motor.

Why did you purchase this Electric Bike?

In January 2016, at the age of almost 60, I started looking at various forms of transport when the Company I work for announced that it was moving office location. Previously I had walked to work but the new location made this out of the question.
I looked at buses, but I would have needed to catch two and the journey would have taken around an hour. I looked at getting a moped but having never ridden a motor bike I had some reservations. I looked at a push bike but at the age of 60 with dodgy knees the hills around Brighton and Hove didn't look too inviting.
Then I looked at electrically assisted bikes. Having joined on line forums and visited various Sussex Dealers I eventually ended up in Electric Bikes Sussex on a very wet and windy Monday. They took the time to understand my needs and despite the bad weather loaned me a helmet and a couple of bikes to try. Having not been on a bike for 20years I set off with some trepidation. Peddling up from the marina in a strong headwind soon made me realise that perhaps this could be the transport I needed. Returning to the shop I expected to be given the salesman talk about special offers and buying now. But no! They let me walk away to have a think about it. A couple of weeks later I returned with my cycling mad son to test ride the bikes again on a longer ride. This ride convinced me that the Haibike Trekking would be ideal for my daily commute. It looked good, rode well and its 20 gears made light work of the hills that I tested it on.
I have now had the bike for 14 months and use it at least 3 times a week. Do I regret buying it? Not at all. It takes me 20 minutes to get to work instead of an hour on the bus and most of the time it brings a big smile to my face as I ride past the queues of Brighton traffic. Yes, when it rains it's not pleasant but waterproof clothing soon sorts that out. Some of my colleagues cycle to work and arrive all hot and sweaty whereas I arrive as fresh as when I started.
Is it cheating? I don't think so. If I want a workout I turn the power assistance down, usually when I am on the way home, if I am riding to work and want a leisurely ride without breaking into a sweat then I put the power assistance on maximum.
 
How does this Electric Bike ride?

Generally I am very pleased with the handling of the bike. There is no denying that it is a heavy machine but you only notice this if you are trying to pick it up, on the road the electrical assistance makes light work of the extra weight. The bike itself is quite wide and being heavy I find it discourages me from squeezing through gaps around cars, which is probably no bad thing!  I tend to use maximum assistance during my commute which allows me to pull away from lights and junctions pretty quickly and keep up with the town centre traffic. I find that up hills and when pulling away from lights I easily keep up with younger riders but once the magic 15mph is reached, and the power assistance drops off, the youngsters leave me behind.
Do you think your Electric Bike has helped your Health?
 
Unfortunately I haven't lost any weight since I have had the bike but I do think that my balance has improved, my legs are stronger and amazingly, my doctor has stopped my blood pressure tablets as it is no longer high. Whether this is down to the bike or some other lifestyle change I couldn't say but I do enjoy my rides to and from work.
Have you ridden your Electric Bike more or less than you expected? Why?
 

I tend to mainly use my bike for commuting. It is also handy to have when my wife is out in the car and I need to get somewhere quickly. On balance I have probably ridden it as I expected.
 
Is there anything you have changed or would change about it?
 
The bike comes equipped with most things you need including lighting. However since I have owned the bike I have fitted a few extra accessories which I find helps me to negotiate the Brighton traffic more safely and more comfortably. The first was a Zefal mirror which fits in the end of the handlebar and allows a good view of what's going on behind. The second item I bought was a Suntour NCX Suspension seat post. This helps to soak up the bumps and holes frequently found on the roads around the City. I also bought some extra LED lighting to use on those dark winter evenings and of course a good quality lock.
Overall conclusion

I would thoroughly recommend both the bike and Electric Bikes Sussex. The bike has performed without a hitch since I have had it. It has been serviced a couple of times and the only thing that needs regularly changing are the brake pads. I find it really convenient that Electric Bikes Sussex carry out servicing and repairs at their shop in the Marina. The staff there are all friendly and knowledgeable, service appointments are booked for a specific time so I ride over, leave the bike, have a coffee and then pick the bike up. I would love to have the off road mountain bike as well but all the time I am working the Trekking suits me perfectly.